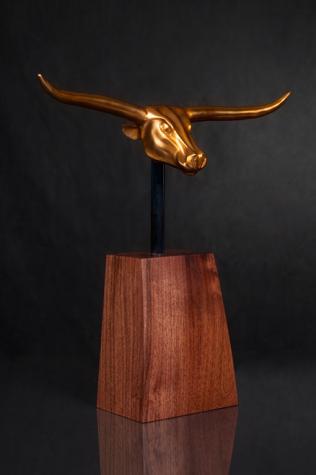 Babs is a longhorn design inspired by the UT Longhorn logo, a most recognizable brand synonomus with the Capital of Texas at Austin. At the time of Babs origination, the UT Football program was soon to play for the 2009 National Championship in January 2010.
The need for a 3D Longhorn sculpture came about when Flow Fence, my latest product design concept needed to have a crowning element. This Flow Fence prototype crafted of beautiful hardwoods now taking final shape, stands eleven foot tall as the new signage for Artisan Hardwood Floors, Everwood Decking and Premium Mesquite Companies, 11004 FM 969, Austin, Tx 78724.
Babs is the baby size Longhorn bronze, 14.5" point to point now available for sale at University Co-op online, by far the most successful university store in the world with locations in Austin, Dallas, Houston and San Antonio. What is coming next is the crowning design to Flow Fence, the bronze called BIG BABS spaning 72" from point to point.
The Austin Gallery slated to represent this limited edition item will be announced to the public when the first BIG BABS is ready for display, the regular price will also be established.
See also FlowFence.com